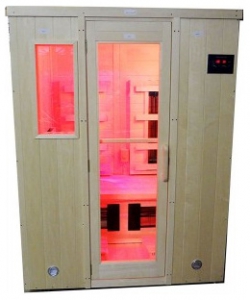 Dr. Dietrich Klinghardt wrote: "Peer reviewed literature shows that sweating during sauna therapy eliminates high levels of toxic metals, organic compounds, dioxin, and other toxins." While detoxification of toxic chemicals and heavy metals is a main value of sauna bathing, there are many other benefits:
– Relaxation and Endorphin Release
– Increased Blood Flow
– Immune System Stimulation
– A rise in body temperature that can kill some viruses and bacteria
– Relief from Pain and Stiffness
We love Heavenly Heat saunas because they build chemically safe, low-EMF saunas of the highest quality. However we (unwisely) purchased the cheapest 15 Amp model, and learned some important lessons:
1) don't get the 15 Amp – it takes a long time to heat up. (using FIR heater alone, air temp would barely reach 115°F) And for me, air temp must be above 150°F or I don't sweat. So here is what we did: they can sell you a dual-heater model with both a 15 Amp (110V) FIR heater and a 220V traditional rocks heater. Best of both worlds!
2) The smallest sized sauna enclosure is great for heating up quickly, which over the long term makes it more economical from an energy standpoint. Sitting up you can fit 2-3 people in it, or if only 1 person even stretch your legs out on the bench. But you can't lie down fully flat, you won't fit.
3) FIR is very effective at getting the toxins "loose" from their hiding places, but our son has trouble sweating them out. So, we must use a detox foot bath immediately afterwards… or he regresses back to toe walking for a couple days.
Heavenly Heat http://www.heavenlyheatsaunas.com