The Paleo, SCD, and GAPS diets share most of the same basic dietary restrictions. Grains, gluten, soy and lactose are eliminated; emphasized foods include non-starchy vegetables, nuts and seeds, grass-fed animal products, and fruits if well-tolerated. (In The BrainFood Cookbook I focus on the GAPS diet, which is the most restrictive of the diets.)
Basically, we are avoiding foods that are:
– known allergens
– have opiate qualities
– difficult to digest
---
Allowed Foods: (organic foods whenever possible)
Honey (raw honey is best)
Fruit
Vegetables (fresh or frozen – not canned)
Glass-Jarred Tomatoes / tomato sauces
Nuts / Nut Butter (preferably Soaked/Sprouted/Dehydrated)
Coconut
Eggs (free-range & soy-free is best)
Poultry & Meat (grass-fed is best)
Fish (not farmed)
Ghee (clarified butter)
Fermented Raw Dairy, only if tolerated (such as Yogurt and Kefir)
---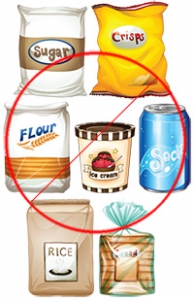 Prohibited:
Wheat
All Grains (even "gluten-free" are prohibited)
Rice
Corn/Corn Syrup/Cornstarch
Tapioca
Potatoes
Oats
Most Dairy* (but clarified butter (ghee) IS allowed)
Most Beans*
Chocolate
Peanuts (due to aphlatoxic mold)
Canned Foods (but canned tuna allowed in moderation)
Sugar/Brown Sugar/Molasses/Evaporated Cane Juice
Maple Syrup
Artificial Sweeteners
Artificial Food Dyes and Preservatives
Annatto (natural yellow food dye – triggers ADHD)
Soybeans/Soy Milk/Tempeh
* see The BrainFood Cookbook for more info
What happens when your child consumes "illegal" food which is an allergen/opiate/incompletely digested?
All of these cause irritability and/or brain fog. Once you clear up the brain fog, your child's brain will become receptive to all the OT / Speech Therapy / opportunities you are offering him!
Please remember that 
no matter your dreams or obstacles, you have the power to change your child's life. I sincerely hope our resources can help you do just that.