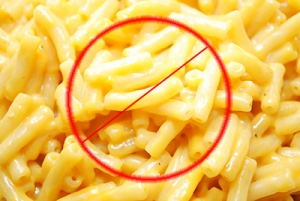 Q: My kid only eats macaroni and cheese? Why?
A: The opiate-like affects of the gluten and dairy are actually addictive. The "addict" craves the very foods to which he is allergic, and the vicious cycle continues. There may be withdrawal when you change your child's diet, so I suggest implementing in this order:
• Go dye free
• Eliminate sugar and "sugar substitutes" (honey & fruit still allowed)
• Go gluten free
• Go pasteurized dairy free (GAPS raw dairy allowed: Yogurt & Kefir)
• Start making most of your meals GAPS-compliant
• Full GAPS
• Do the GAPS Intro / Stages
• Full GAPS
Additional Considerations:
• Changing your child's diet is much easier when your entire house is emptied of illegal foods, and his school is fully informed of dietary restrictions.
• When my family made the transition from Gluten-Free to GAPS Intro/Stages, I was grumpy for about 2 weeks straight due to withdrawal and die-off. If your child is in school, you might consider making the GAPS transition during Winter, Spring, or Summer break.
• Blood tests (igG tests) can tell you if your child is allergic to Wheat/Dairy/Soy/Corn, but your child must be eating those foods in order for the results to be accurate. So if you are curious, get igG blood tests ordered before removing those foods from the diet.
Please remember that no matter your dreams or obstacles, you have the power to change your child's life. I sincerely hope our resources can help you do just that.