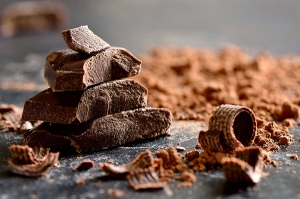 Although the SCD list disallows chocolate, here is a quote from Dr. Natasha's FAQ page:
"When can cocoa be introduced?"
"Cocoa is SCD illegal. However, I find that many people can start having it occasionally on the Full GAPS Diet, once the digestive symptoms are gone. Find pure organic cocoa powder. Mixing the powder with some honey and [raw A2 milk, homemade] sour cream makes a delicious dessert, and you can add it to your [raw A2 milk] homemade ice cream or cakes. After trying it for the first time, observe your patient for any reactions. Cocoa is very rich in magnesium and some essential amino acids and, unless your digestive system is not ready for it, there is no need to avoid it."
Author Baden Lashkov (The GAPS Guide) says this in her blog post Pure Cocoa – Tried and True? where she asks folks who are eating GAPS/SCD to comment if they can tolerate cocoa powder. Some can & some can't. I'd say it's OK to try if you don't have any current digestive issues.