Fish Oil – DHA/EPA for brain development
Unless children get lots of sea foods in their diet, their brains are starving for the Omega-3s DHA/EPA (found in fish and fish oil). I encourage you to read the research/stories told by world traveler and researcher Dr. Weston A. Price of traditional (primitive) cultures who recognized the vital importance of foods from the sea for children (and pregnant women). Mountain tribes in the Andes would hike down 12,000 feet to get sea products. Other stories tell of peoples who would trade for these sea foods with neighboring tribes even when they were at war with each other. Any high-quality fish oil would be an excellent choice – to give you some ideas the products listed below are the fish oils that my son took when he was younger and/or the ones he is taking now.  

Mercola Krill Oil for Kids supplements are "size 4" capsules – which are the smallest capsule size available (about the size of a tic-tac) so they are a great way to teach your child to swallow capsules!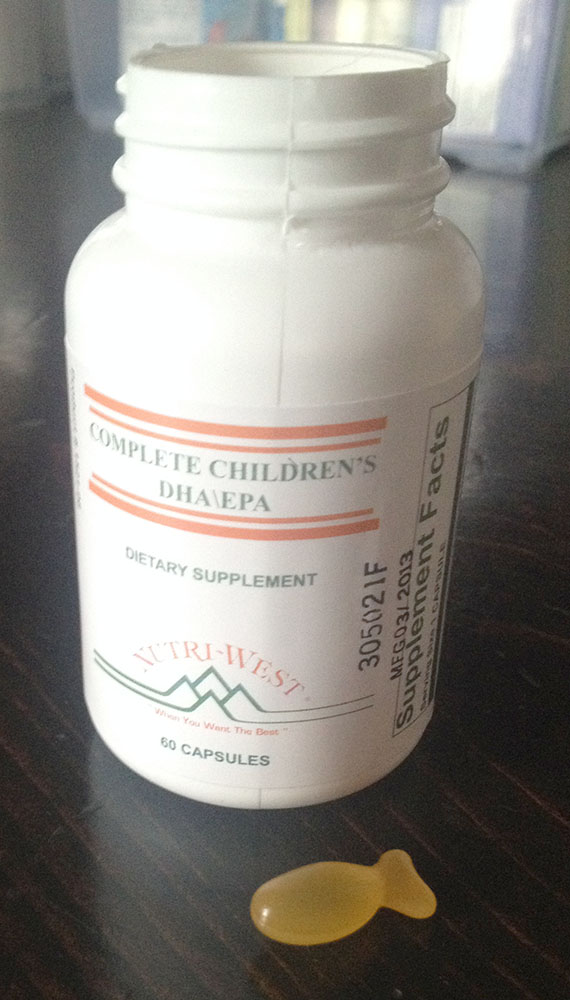 NutriWest makes an excellent Fish Oil for kids Children's DHA/EPA which is theoretically chewable – it has a nice orange flavor to me – but tastes yucky to some kids. So James swallows the fish-shaped gummy capsules. He currently takes 3/day but I've also heard excellent results from parents who only give one/day.
Case Study: My niece with ADHD was doing expensive tutoring at Sylvan Learning Center and still struggling in school. One month after starting a mere one capsule/day of Children's DHA/EPA she obtained straight A's. And no more tutoring.

If your child can swallow large capsules, Pure Encapsulations offers an eco-friendly supercritical CO2 extracted DHA fish oil concentrate. DHA Ultimate contains a whopping 395mg DHA / 94 mg EPA per capsule.
If you are curious to know what are your child's actual blood levels of Omega-3s, I recommend the OmegaCheck test from SpectraCell. (OmegaCheck can be ordered as a standalone test, or it is included as part of the CardioMetabolic Panel)
Please remember that 
no matter your dreams or obstacles, you have the power to change your child's life. I sincerely hope our resources can help you do just that.