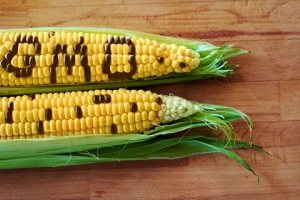 GMO (Genetically Modified Organisms) / GE (Genetically Engineered) foods are lab-created by altering the genetic code of a plant or animal. For example GMO corn contains Bt toxin. A recent study (Mesnage et al., 2012) showed that consuming Bt corn can cause gut permeability or "leaky gut". When your gut becomes permeable everything that you eat leaks directly into your bloodstream, which can result in food allergies and food intolerances. Children are more prone to the dangerous effects of leaky gut and dysbiosis.
Roundup is the trade name of Monsanto's glyphosate-containing herbicide. GMO crops are engineered to withstand Roundup spraying, which theoretically kills weeds but spares the crop. Unfortunately this means there are traces of Roundup in foods made from these crops. When humans consume Roundup it disrupts the microbiome in our guts (via the shikimate pathway), and disrupts other microbes in our bodies. Since the human body lives in partnership with microbes – to digest our food, make amino acids, and much more – this disruption of the human microbiome can damage our health. U.S. scientists Samsel & Seneff showed that glyphosate inhibits cytochrome P450 (CYP) enzymes which are necessary for crucial processes including the detoxification of xenobiotics [toxins], synthesizing amino acids [proteins], and to transport sulfate in the bloodstream.
What crops are GMO? In the U.S. more than 90% of all corn, soy, and cotton are GMO. Other approved food crops include canola, papaya, sugar beets, alfalfa, and summer squash.
Since "You are what you eat" be sure to purchase organic produce in order to avoid GMOs and Roundup exposure. You will also want to purchase organic animal products, because "You are what your animal eats" too. (organic animal products are fed organic feed)
Here are additional resources if you'd like to learn more:
The Ultimate Guide to GMOs – free eBook
GMOs Revealed – 9-part Docuseries
Please remember that no matter your dreams or obstacles, you have the power to change your child's life. I sincerely hope our resources can help you do just that.
References
Mesnage, R., Clair, E., Gress, S., Then, C., Székács, A., & Séralini, G. (2012). Cytotoxicity on human cells of Cry1Ab and Cry1Ac Bt insecticidal toxins alone or with a glyphosate-based herbicide. Journal Of Applied Toxicology, 33(7), 695-699. http://dx.doi.org/10.1002/jat.2712
Samsel, A., & Seneff, S. (2013). Glyphosate's Suppression of Cytochrome P450 Enzymes and Amino Acid Biosynthesis by the Gut Microbiome: Pathways to Modern Diseases. Entropy, 15(4), 1416-1463. http://dx.doi.org/10.3390/e15041416